EM & Bokashi Method Experience Activities
Tuesdays 9 am - 11 am (or Thursdays--confirm by email below). All Year Round.
Participate in garden activities and get experience in using EM and the bokashi method.
If you would like to participate, please contact Susan at This e-mail address is being protected from spambots. You need JavaScript enabled to view it
Also contact Susan for a bokashi workshop or a free tour of the bokashi composting done at El Sol Brillante and the Children's Garden.
Activities take place at either the
Children's Garden
on 12th St & Ave B (southwest corner) East Village, Manhattan, NY
and/or
at the
El Sol Brillante Community Garden
on 12th St between Ave A & B (middle of the block, south side)
---
Free Bokashi Workshops
Learn about the bokashi method of recycling food waste.
at
El Sol Brillante community garden
12th St between Ave A & B, middle of block, south side of street
East Village, NY
October 15, 2014 Wednesday 5:30-7:30 pm
---
at the
Edgemere Farm
/Edgemere Urban Renewal Park
385 Beach 45th St
Far Rockaway, NY
October 19, 2014 Sunday 10 am - 12 noon
---
at the
Smiling Hogshead Ranch
25-30 Skillman Ave
Long Island City, NY
October 25, 2014 Saturday 3 - 5 pm
---
at the
14th Street Y
344 E 14th St, west of 1st Ave,
Room 201
New York, NY
October 26, 2014 Sunday 3 - 5 pm
November 5, 2014 Wednesday 6:15 - 8:15 pm
November 9, 2014 Sunday 3 - 5 pm
---
---
The bokashi method of recycling food waste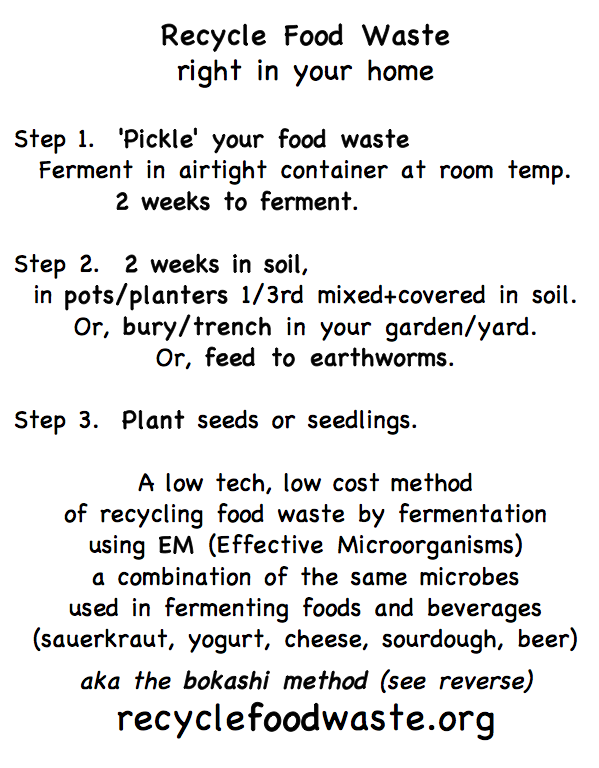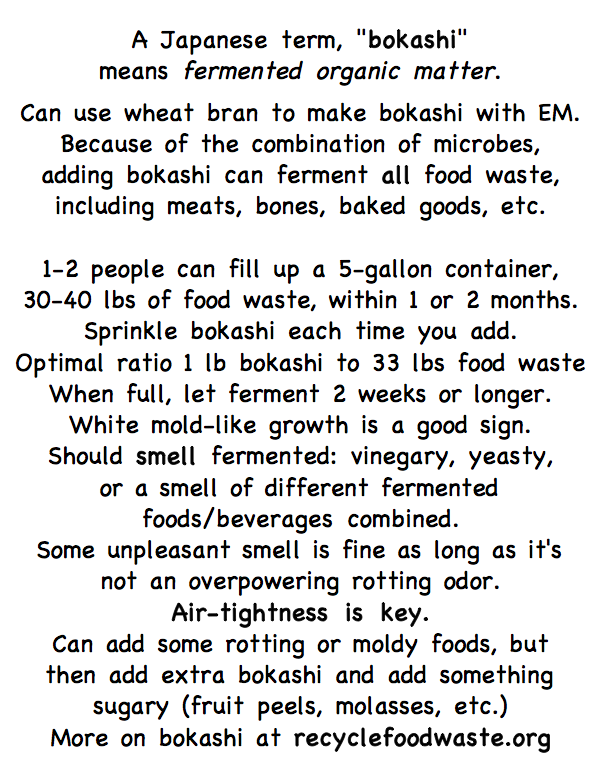 ---